Bitdefender Central is a centralized one-stop platform for managing all your Bitdefender products and services. From Central, you can control security for yourself and your entire family. You can install protection, track your lost devices, manage your subscription, and run remote scans and optimizations – all in one place. In this article, we're going to cover all the basics to get you acquainted with Bitdefender Central. To learn how to access Central using the mobile app read – Bitdefender Central app: The new security app for all your devices.
VIDEO
Learn more about Bitdefender Central's most important features from the video below.
What is Bitdefender Central?
Besides offering the best protection for your systems, we want you to have the smoothest experience managing and using your Bitdefender products on all of your systems (Windows-based, MAC systems, iOS, and Android mobile devices). That is why we created Bitdefender Central.
Bitdefender Central is the web platform where you have access to the product's online features and services and can remotely perform important tasks on devices Bitdefender is installed on. Sign up or log in to your Bitdefender Central account from any computer or mobile device connected to the Internet by accessing this link: https://central.bitdefender.com
Now let's look over the functions of each of the Bitdefender Central modules.
My Subscriptions
• See the details of all the subscriptions and payments attached to your account.
• See the devices a subscription is used on.
• Manage your subscriptions.
• Activate a subscription using an activation code. To learn how to manage your Bitdefender subscriptions and payments follow the steps from this article – How do I manage my Bitdefender subscriptions?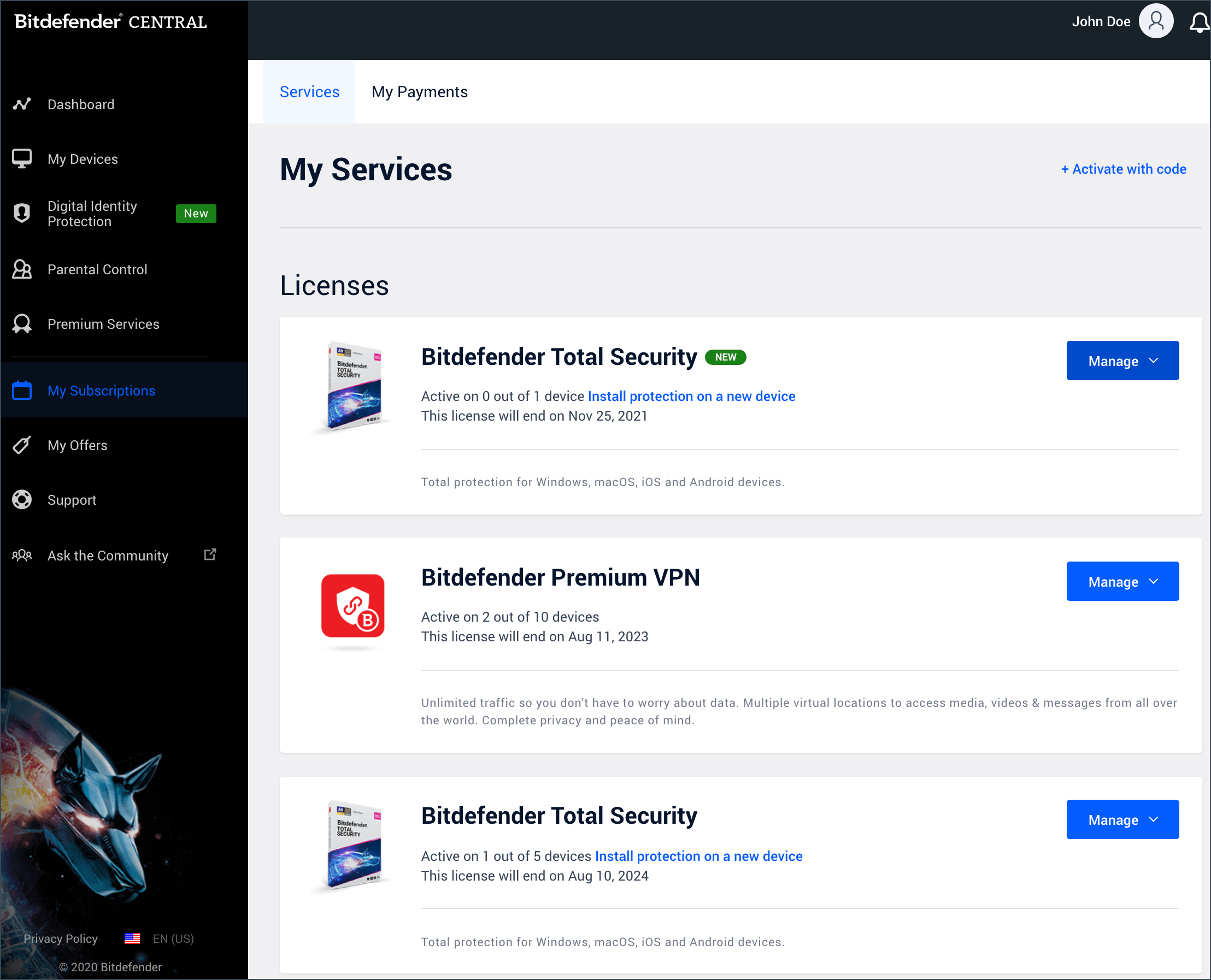 My Devices
• See the list of devices on which you installed Bitdefender.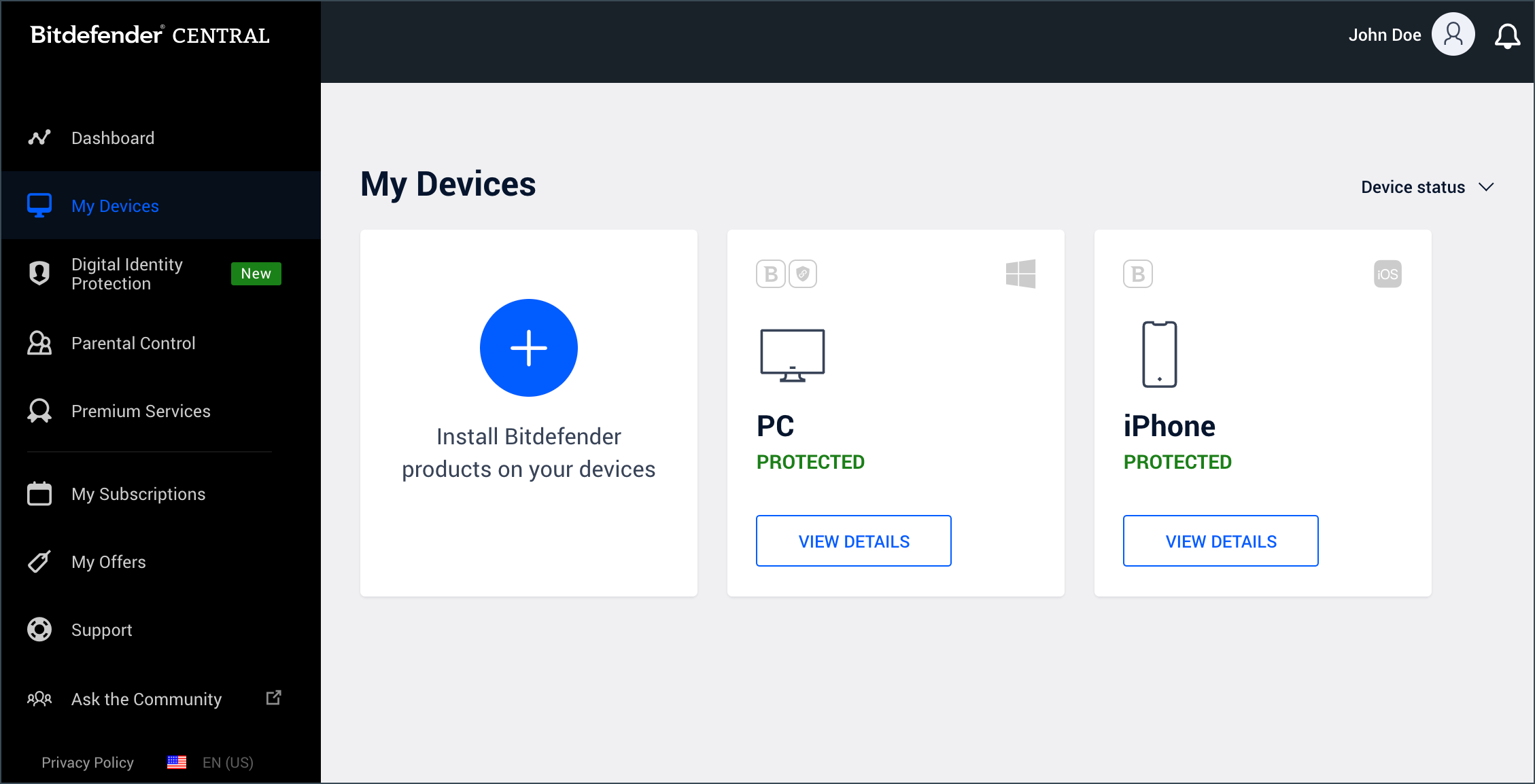 • Install Bitdefender on your Windows, Mac, iOS, or Android devices.
• Remotely control the devices Bitdefender is installed on. Here are the commands you can run from Bitdefender Central on your Windows-based systems (if Bitdefender is installed):
1. View and Fix the issues that Bitdefender reports on the device.
2. Quick Scan and System Scan – can be run on the system.
3. Optimize the system – for computers with Bitdefender Total Security.
4. Use the Anti-Theft feature – for devices that have Bitdefender Total Security or Bitdefender Mobile Security for Android: Locate, Wipe, Lock.
5. Run a Vulnerability scan on the computer.
My Offers
• Receive only personalized offers – which are 100% tailored to your systems' security needs.
Digital Identity Protection
• Discover whether your personal information has ever been leaked across the Internet and receive instant alerts about any new breaches.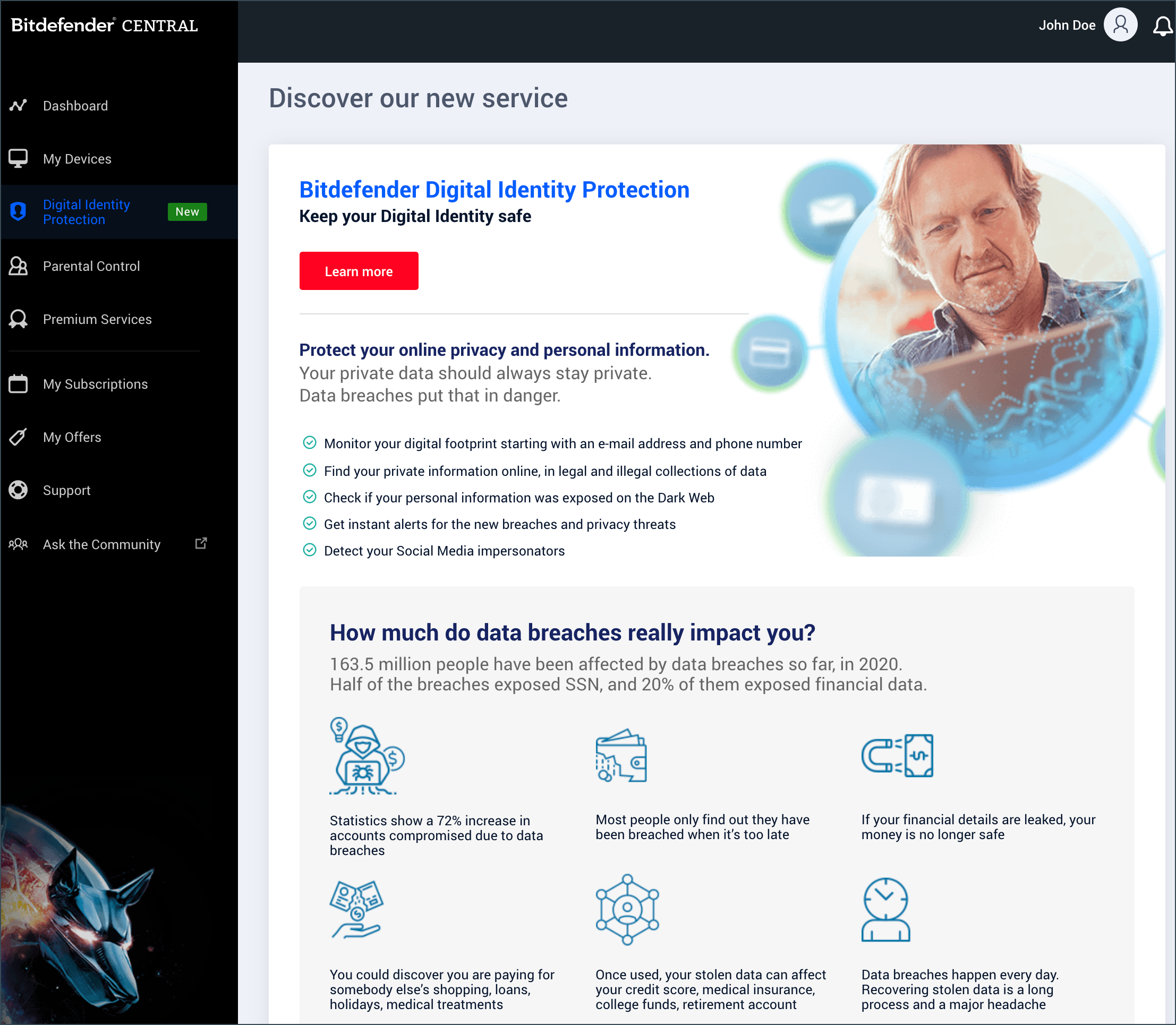 Here are the Bitdefender Digital Identity Protection features:
1. Digital Footprint Visualization – see exactly how much of your personal info has been made public or stolen.
2. Continuous Identity Monitoring – be aware of sensitive information about your identity found on the Dark Web and public databases.
3. Real-Time Alerts – get alerts about identity theft attempts such as data breaches, account take-overs, and social media impersonations.
Parental Control
• Activity – displays child activity based on hours spent and their activity on the device.
• Applications – displays the applications that the child uses on the device.
• Websites – displays the general domains of interest that the parent can allow or block.
• Phone contacts – displays the list of contacts that the child has on the Android device. Contacts can be blocked by the parent.
• Child Location – a list of areas defined by the parent to be notified when the child enters or leaves those zones (E.g. home, school).
• Screen time – limit access to your child's devices within specified hours, during bedtime. Allow access to the child's devices for a specified time, during the daytime. Choose a time when the child can't use any of the assigned devices (E.g. at bedtime). Available on Windows, macOS, and Android.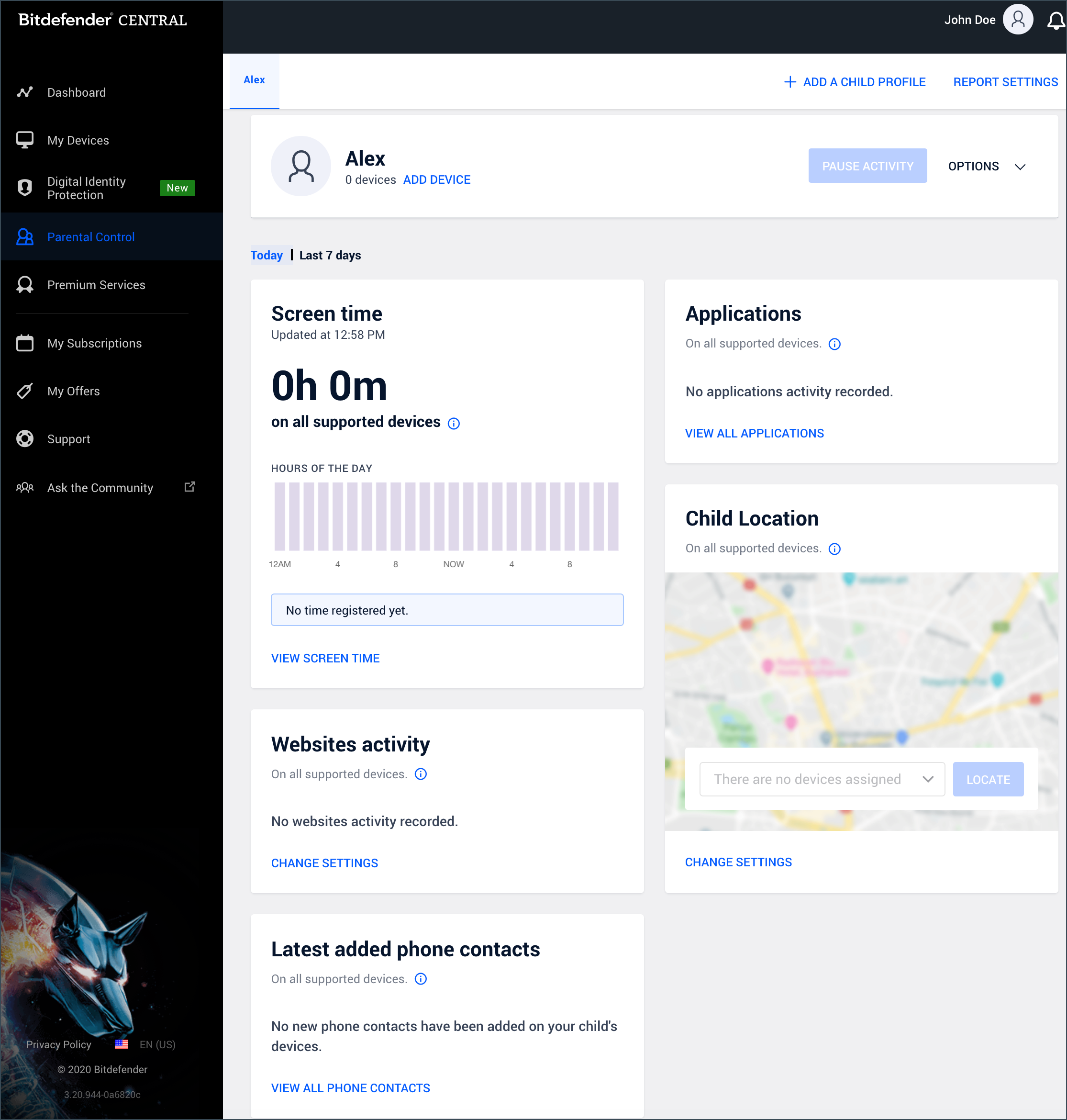 Premium Services
• Take a look at our Premium Services portfolio.
• Purchase a new premium service to fix your computer remotely.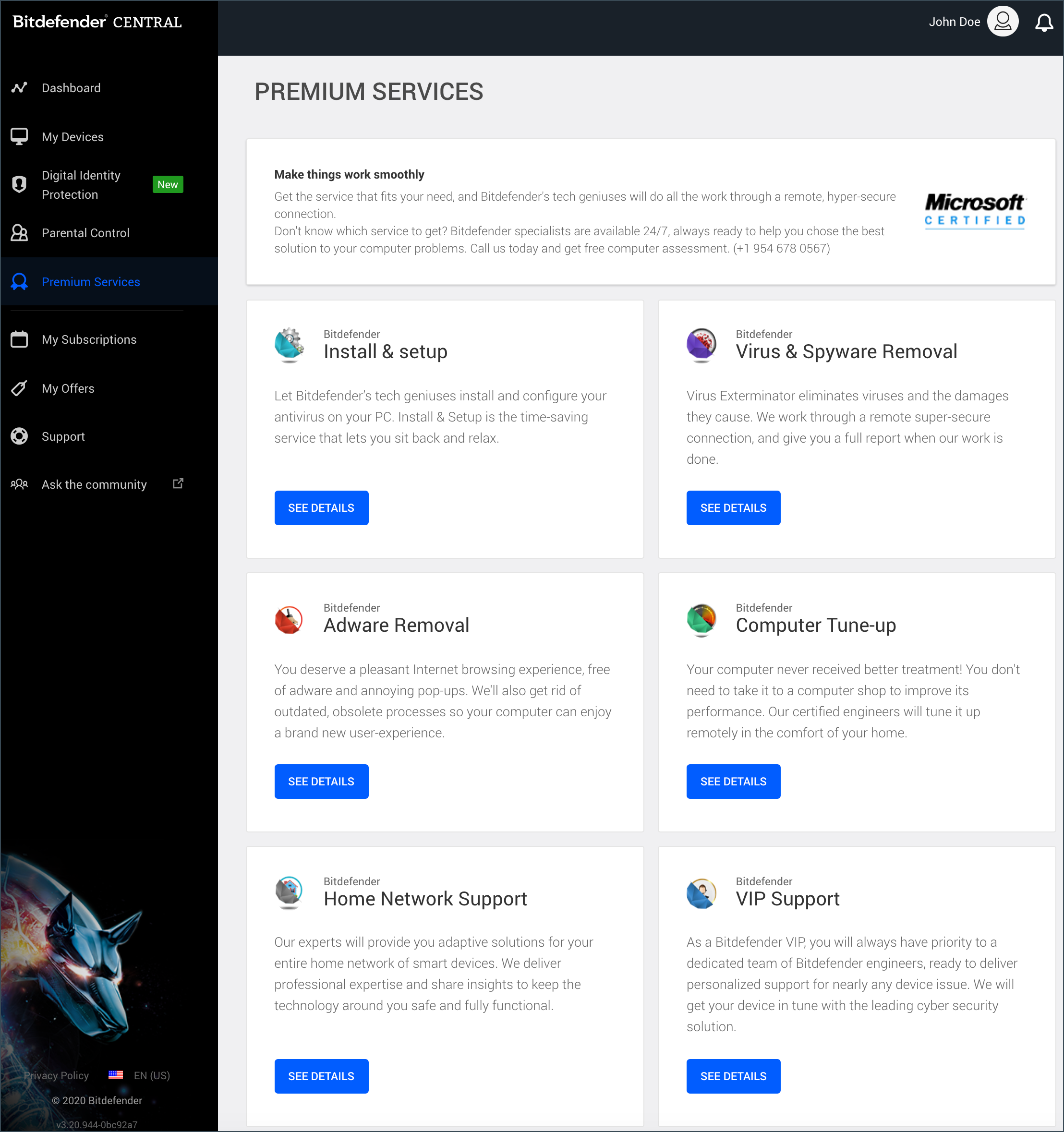 Support
• Watch popular how-to videos.
• Find or get help regarding Bitdefender products.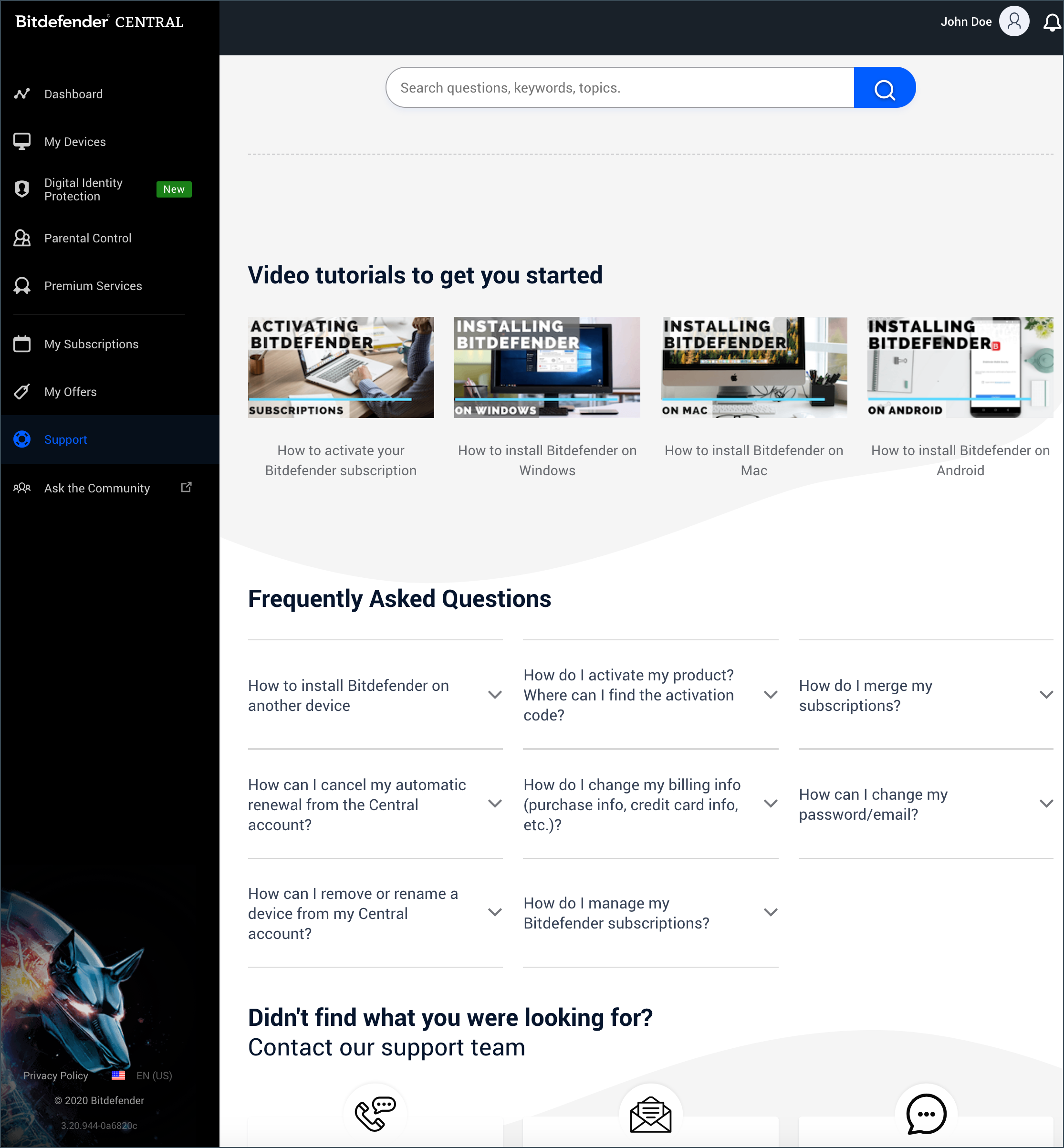 Ask the Community
• Join the Bitdefender Expert Community to find answers, exchange ideas, and connect with other cybersec savvy people.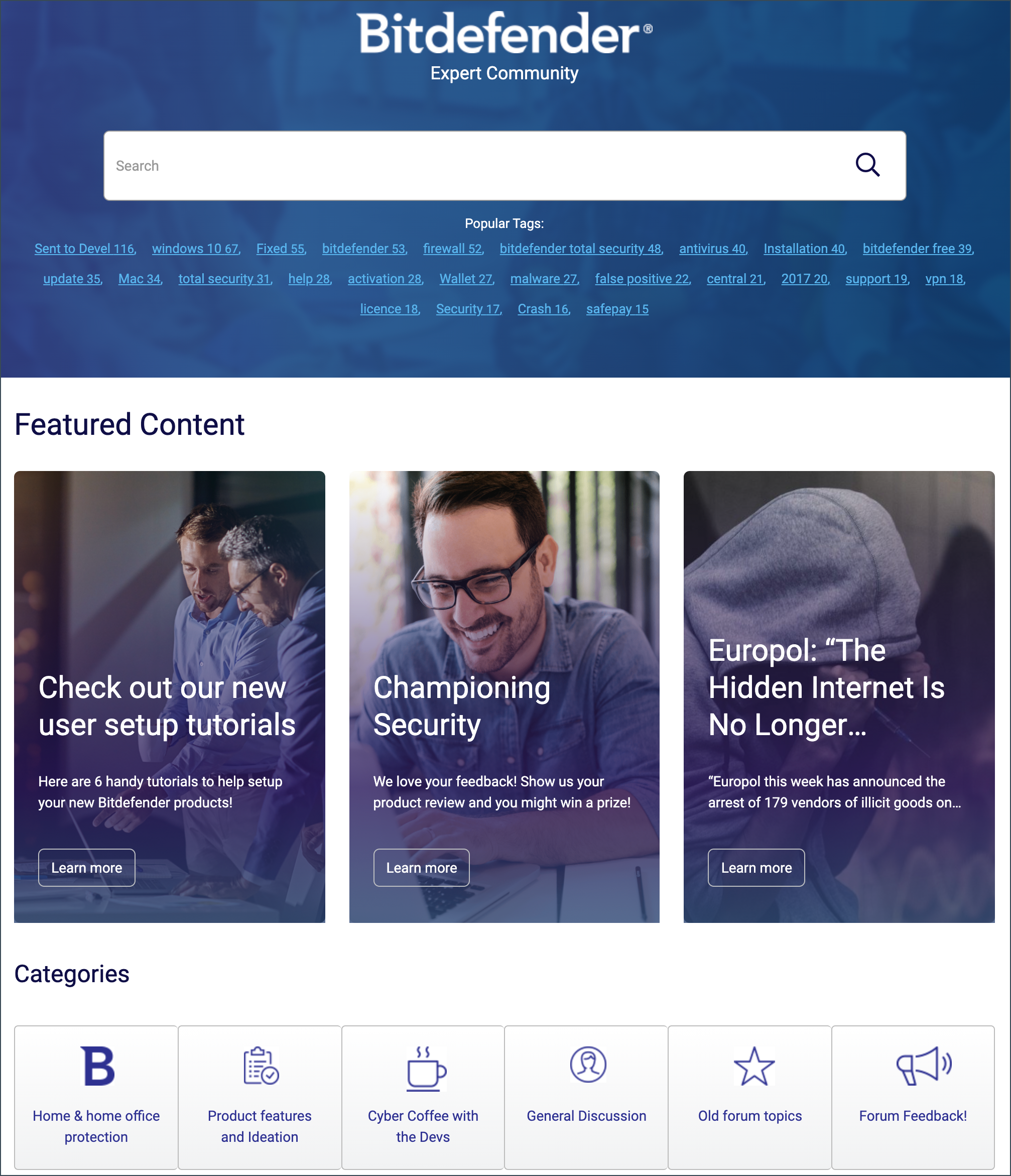 Bitdefender Account
• Personal information – Adjust your personal info for personalized offers, change the language for your Bitdefender Central account and for the Bitdefender product that you are installing on your Windows systems.
• Password and security –  Change the password to your account or enable 2-Factor Authentication.
• Data & Privacy – (Un)subscribe from newsletters and other emails or delete your Bitdefender Central account.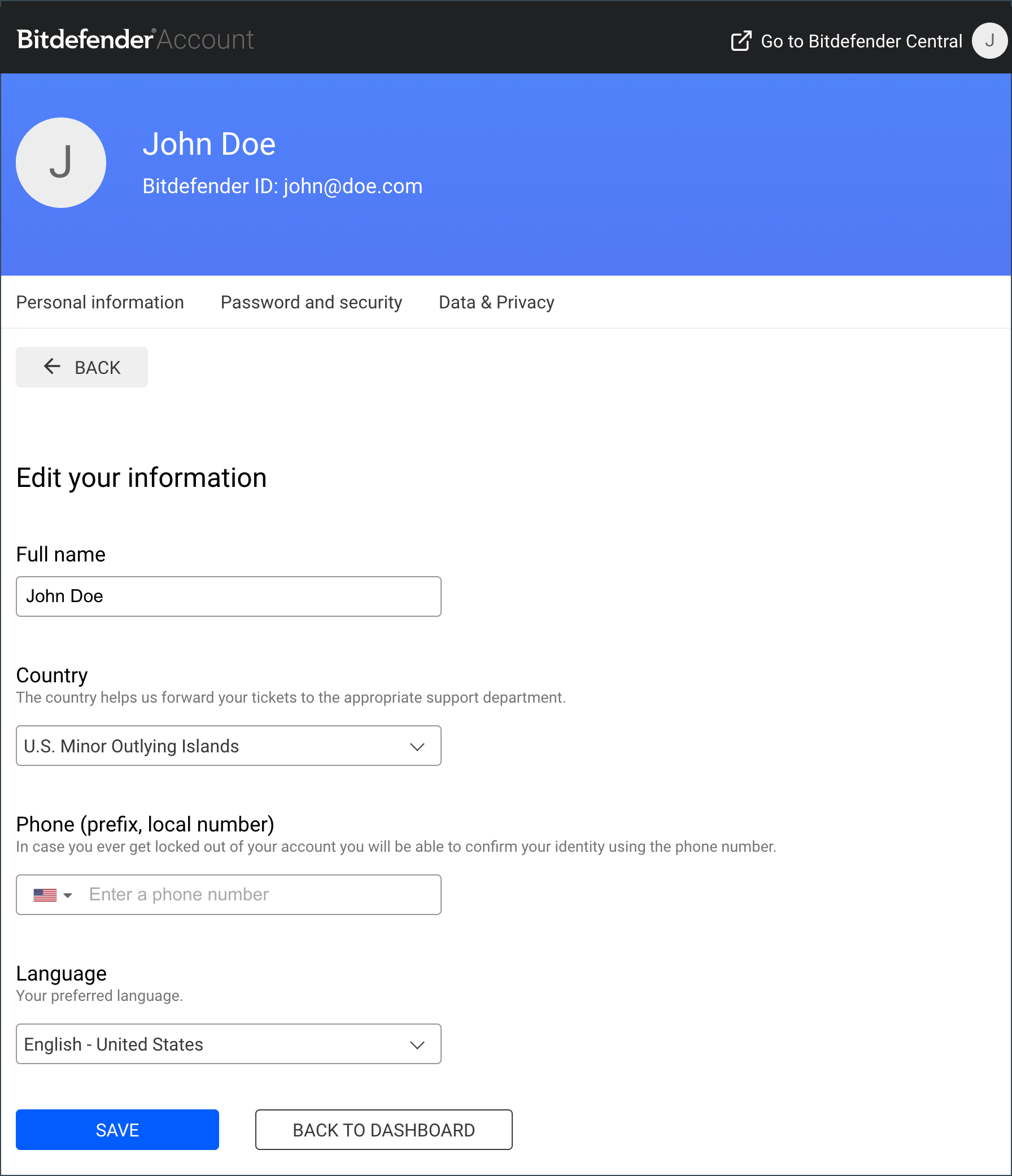 Related Articles
Source :

Official Bitdefender Brand
Editor by :

BEST Antivirus KBS Team
(Visited 17 times, 1 visits today)